April
Moscow Investment Digest April 2017
Dear Colleagues,
The Department of Economic Policy and Development of Moscow and the Moscow City Investment Agency present a new issue of the digest of Moscow's main investment news.
Over the last six years, investments in fixed assets of Moscow's industrial enterprises have grown 2.5 times
Europe's largest industrial exhibition Hannover Messe Industrie 4.0 was held in Germany. Russia was represented by Moscow, with its emphasis on high-tech industry, business innovations and training of young professionals.
Natalya Sergunina, Deputy Mayor for Economic Policy and Property and Land Relations, stressed that, in 2016, investment in fixed assets of Moscow's big and medium-sized manufacturing enterprises was RUB 53 bn, a rise of nearly 2.5 times over 2010. "Overall investments in Moscow manufacturing enterprises has reached RUB 275 bn", Natalya Sergunina said.
Nearly half (551, or 44%) of Moscow's real sector enterprises are exporters; that includes about 300 manufacturing enterprises (42% of their total number). In 2016, Moscow's real sector enterprises increased their exports by 39.4% (+ RUB 148.1 bn), mostly due to the defence and aerospace sectors. Other sectors that demonstrated high growth rates last year were R&D (+35.9%) and end-consumer-orientated sectors, such as car manufacturing (+39.0%) and light industry (+49.1%).
It has become possible since Moscow created an innovative infrastructure and a comprehensive support system for manufacturers of knowledge-intensive products.
In addition, the Industrial Development Fund was launched in Moscow. Its principal task is to support Moscow enterprise investment projects, to assist in modernising production lines and in purchasing innovative equipment. The Fund has products aimed at supporting advanced R&D. At the first stage, the Fund will focus on loans of up to RUB 50 m for up to 5 years at an interest rate of 5% per annum. This year's plans already involve ear-marking about RUB 800 m for supporting industry and entrepreneurship", Natalya Sergunina noted.
Macroeconomy: Moscow's socioeconomic development in 2016
Moscow's Analytical Centre presented its socioeconomic development digest for 2016; inflation was 106.2% compared to December 2015, which was half the level of the year before; business power consumption increased by 4.1%; goods shipped by manufacturing processing enterprises grew in volume by 8.3%. In addition, the total number of individual entrepreneurs grew by 22,300; the number of vacancies submitted to employment services was higher than the number of the unemployed; the average number of persons employed in the Moscow economy grew by 362,500.
Experts also note that while, country-wide, investments in Russia dropped by 0.9%, investments in fixed capital in Moscow grew by 0.7%; the total area of high-quality office space was 15.9 million sq. m.; at year-end, the percentage of profitable organisations was about 77%. The increase in Moscow's budget revenues exceeded 11%.
Moscow is one of Russia's biggest pharmaceutical industry centres
Sergei Sobyanin and Anatoly Chubais, Chairman of the Board of MC Rusnano JSC, launched NovaMedica's technological centre at the Technopolis Moscow in New Moscow. The new integrated pharmaceutical plant has a research lab and production lines for manufacturing dozens of pharmaceuticals. The construction of a major plant is to start in May 2017.
Moscow is the centre of Russia's pharmaceutical industry; it has 17 big and medium-sized enterprises. In 2016, 100 million packages of various pharmaceuticals were produced in Moscow.
Moscow produces about 14% of Russia's perfumes and beauty products
Sergei Sobyanin unveiled new production lines of Faberlic JSC, one of Russia's major beauty product manufacturers. Moscow is considering granting the company the status of an industrial complex. We would like to remind you that the Moscow Government supports enterprises by reducing ground rent rates and by offering reduced rates on profit, land and property taxes.
The Mayor of Moscow says that Moscow is among the leading perfume and beauty product manufacturers. It produces about 14% of Russia's entire output. The enterprises employ 3,600 people. At year-end 2016, average wages in the industry were RUB 66,400.
Moscow presented its investment potential in the United Arab Emirates
The annual investors' meeting held in April in the World Trade Centre in Dubai served as an open platform for presenting Moscow investment opportunities. Visitors from 140 countries attended the event, which was centered on "International Investments, Path to Competitiveness and Development."
Speaking at the event, Sergei Cheremin, a Moscow Government Minister, Head of the Department for External Economic and International Relations, noted that, today, Moscow is drawing the attention of the biggest financial and industrial corporations. They are interested, in particular, in transport infrastructure development and related development projects, hotels, malls and medical clusters in Moscow.
Reduced lease rate programme helps open over 20 private kindergartens and schools in Moscow
The programme has proved its effectiveness and will be continued in 2017. Gennady Dyogtev, Head of the Department for Competition Policy, said that the fierce competition at auctions proves that the programme is in demand.
"21 facilities for opening private kindergartens and schools under the 1 RUB per 1 sq.m. programme have been leased through Moscow's Unified Trade Platform since 2014, when it was launched. Half the lessees have already fulfilled all the conditions for switching to the reduced rate", Gennady Dyogrev said, adding that, in 2017, another six city facilities will be leased out at the reduced rate.
Currently, two buildings are up for auction: in the Central and the South-Eastern Administrative Districts. The documentation on the lots is available on the Moscow Investment Portal in the "Benefits Programmes" section.
Moscow's online services make it very easy to seek premises for small and medium-sized businesses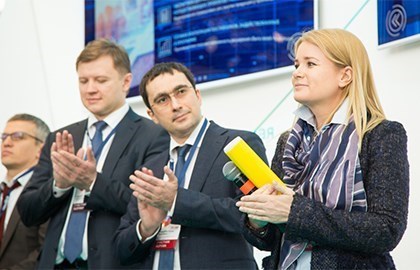 Moscow has held the "Government contracts: FOR fair procurement" All-Russia Forum and Exhibition. At the Moscow Government Stand, Natalya Sergunina, Deputy Mayor for Economic Policy and Property and Land Relations Relations, said that, since 2014, over 10,000 unique users had participated in bidding at e-auctions at which Moscow city property could be purchased and leased.
"Owing to the auction standards we had adopted, we succeeded in making e-auctions transparent and easy to understand. We standardised the bidding procedure, consolidated information on auction lots on the unified online resource, Moscow Investment Portal. Today, it has over 3,000 listings", Natalya Sergunina said.
In addition, the Deputy Mayor said that the total contract portfolio of small businesses in 2016 exceeded RUB 200 bn. Many small and medium business entities choose the purchasers' portal created in Moscow. The annual volume of procurement conducted via the portal exceeds RUB 20 bn. Small business accounts for almost 70% of that amount.
The government contract management model implemented in Moscow is effective at all stages of the procurement process and saves one in three budget roubles.
"For five years running, including 2016, Moscow tops the National Procurement Transparency Ranking of the constituent entities of the Russian Federation. By polling entrepreneurs from Moscow and St Petersburg, the World Bank compiles its influential Benchmarking Public Procurement Report. We hold leading positions there, alongside the US and the UK and ahead of Singapore and Hong Kong", Natalya Sergunina said.
Moscow auctions: the city leases out the first trading pavilion
Moscow has opened the first city grocery pavilion, leased out for five years. The grocery store with an area of 56.5 sq.m. is located in the Northern Administrative District on Beskudnikovsky Boulevard.
The right to trade in the city's first new type pavilion was auctioned off. Under the terms of the agreement, the winner receives a ready-to-operate grocery store for a term of five years. The agreement prohibits subletting. The same model applies to the right to trade from kiosks, which has been regularly put up for auction since 2016. This was the first small grocery store to be auction by the city.
In 2016, over a thousand kiosks were leased out. "Vegetables and Fruits" kiosks are in particular demand. In late April, the right to trade in nearly another hundred kiosks was auctioned off.
Moscow auctions: the garden pavilion at the Lopatina estate has been put up for auction
The Moscow Government is offering investors a cultural heritage site for restoration , the 1911 garden pavilion at the O.A. Lopatina estate, with the right to a long-term lease under the "1 RUB per sq.m." programme once the pavilion has been restored. The auction for leasing the garden pavilion was announced by the Department for Competition Policy.
All the repairs and restoration work must be completed in under 4.5 years. When the facility is operational, the investor gains the right to the reduced lease rate of 1 rouble per sq.m. for 49 years. The starting price of the annual lease is RUB 65,900. Applications to bid at the auction are accepted until 26 May. The auction will be held on 1 June 2017.
Moscow auctions: Moscow is auctioning off shares in two major printing enterprises
Major investors can try to outbid one another at the auction to buy stock in two Moscow printing joint stock ventures: Pechatniki Paper and Printing Association JSC and Pushkinskaya Square Printing Complex JSC. The total cost of both participatory interests is RUB 952.8 m. The enterprise is involved in publishing and it offers printing services, prepares teaching manuals, etc.
The enterprise is located at 4D Shosseynaya St., five minutes from Lyublino Metro station. Both joint stock ventures make steady profits, says the representative of the Department of City Property that acts as the economic agent of the assets on sale. Applications to bid at the auction are accepted until 30 May. The auction will be held on 7 June 2017.
Gallery
Participation in PPP Central Federal District Forum
Thank you for your attention!
The Department of Economic Policy and Development of Moscow
Moscow City Investment Agency
The Moscow Digest archive is available at the Moscow Investment Portal.