AXITECH, resident of Technopark Slava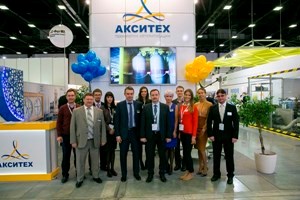 AXITECH designs and manufactures hi-tech equipment for systems for automation and dispatch of industrial and housing-utility facilities. Industrial controllers, complexes and telemetry systems issued by the company successfully operate at Russia's largest companies such as OAO Gazprom Gazoraspredeleniye, OOO Gazprom Mezhregiongaz, AO Mosvodokanal, etc.   
For AXITECH, it is important to have the possibility of locating its own production in Moscow on the territory of AO Technopark Slava. At the technopark, the company leases an area of 832 sq. m., with 28 employees working there. Together with the technopark, the company takes part in social projects, including cooperation with Russia's higher educational institutions in relevant areas.
Thanks to support from the Moscow City Government, AXITECH has presented abroad its solutions for municipal services at the Metropolis Solutions section of the Hannover Messe in Germany. These are systems for recording, distribution and consumption of water, heating, gas, electricity and online monitoring and control over consumption of heating and energy resources.   
Among the company's most significant undertakings are such major projects as automation of the engineering systems of the South Urals Federal District Power Plant GRES-2, equipping of the block valves of the Moscow circular gas pipeline with autonomous telecom systems, automation of gas regulating facilities in the process of preparing for the 2014 Olympic Games in Sochi, development of the automated system for commercial recording of consumption, supplies and determination of water losses as part of the project for Moscow.    
The company demonstrates its achievements at the biggest exhibitions in Russia and abroad. Since its foundation, AXITECH has been a regular participant in ROS-GAS-EXPO, the leading international exhibition of the gas industry and technical systems for gas facilities. The company's technical solutions have been awarded many diplomas for "The Best Presentation of Products of the Gas Distribution Industry at the Exhibition" and for "The Best Innovative Solution in Energy Saving." 
In 2015, at the 5th St. Petersburg International Gas Forum, the company presented for the first time its experimental models of industrial controllers based on the Russian Baikal-T1 processor developed in cooperation with the Russian company Baikal Electronics.