Transport infrastructure
Transportation
Moscow is the largest transportation and logistics center in Russia and has well-developed infrastructure for all means of transportation. Moscow public transportation includes the metro system, buses, trolley buses, streetcars, minibuses and a monorail transportation system. Moscow is connected by 9 railway stations and hundreds of railway routes to every Russian region, the former Soviet states and the EU. Due to Sapsan high-speed trains, major centers like St. Petersburg and Nizhny Novgorod are now within 3-4 hours of Moscow.
The Moscow Air Cluster, comprised of four international airports, serves more than half of the national air traffic flow. The well-developed air transportation system makes it possible to reach the world's leading financial centers, such as London, New-York, Tokyo, Hong Kong and Frankfurt within just few hours.
The Moscow City Government continues to develop the Moscow transportation system, laying new roads, underground and streetcar lines, upgrading public transportation and building transfer hubs for more dynamic circulation of various vehicles and for more active passenger exchange to tackle traffic congestion and make public transportation more convenient. Since 2013, universal travel cards are available for use in the metro system, buses, trolley buses and streetcars. Fare and ticket details.
The urban environment is given special attention. Bicycle paths and new pedestrian areas are being created. Pedestrian areas are being extensively enlarged, particularly in the historical center.
Moscow Airports 
There are four international airports in Moscow with flights to hundreds of destinations in Russia, the former Soviet states, Europe, North America, Asia and Africa. In 2013, the total passenger flow through the Domodedovo, Sheremetyevo and Vnukovo airports was over 70 million people. Moscow airports have well-developed transportation infrastructure that connects them to the city via rail and freeway, and facilitates transportation by private vehicles, taxis and other ground transportation.
Domodedovo is a major Russian airport located 45 km from the city center. You can get there by the Aeroexpress shuttle departing from the Paveletsky train station (Pavelestkaya metro station) as well as buses and minibuses departing from the Domodedovskaya metro station. With this easy-to-use service you can find the best car or public transport route to any point in Moscow
Sheremetyevo is located 28 km northwest of the city center. The Aeroexpress rail shuttle bus to Sheremetyevo departs from the Belorussky train station (Belorusskaya metro station), and buses and minibuses leave from the Planernaya and Rechnoy Vokzal metro stations. Passengers in transit can use a free shuttle to travel between terminals. Here you can find maps for Aeroexpress, ground transportation, taxi and private vehicles between the city and the airport, including an option to show public transportation stops and parking lots.
Vnukovo is located 27 km southwest of the city center. It can be reached by Aeroexpress from the Kiyevsky train station (Kiyevskaya metro station) as well as by buses and minibuses which depart from the Yugo-Zapadnaya metro station. Here you can find detailed maps that allow you to choose routes and transportation means.
Ostafyevo is located 3 km from the Sherbinka railway station to the west and 9 km from Podolsk to the northwest, 12 km from the Moscow Ring Road. There is both private and public transportation between the airport and Moscow: from the Kursky train station (Kurskaya-Chkalovskaya metro station); from the Tekstilshiki platform (Tekstilshiki metro station); and from the Tsaritsyno platform (Tsaritsyno metro station).
Aeroexpress shuttle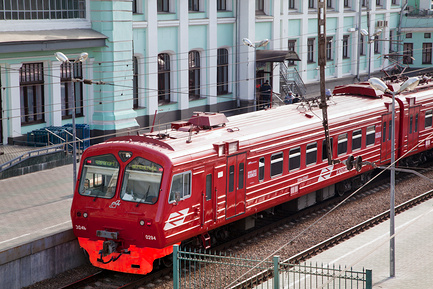 The Aeroexpress shuttle is the quickest way to get to any airport. Aeroexpress terminals are located at major railway stations on the Koltsevaya Line of the Moscow Metro. Trains depart every half-hour. It takes 35 minutes to get to Vnukovo and Sheremetyevo, and 45 minutes to get to Domodedovo.
Aeroexpress tickets are available at booking offices, ticket vending machines and through the Aeroexpress Website. Here you can find schedules and fares, which are also available through mobile devices.
Railway Service
Moscow is a major rail transport hub with 9 railway stations for both long-distance trains and suburban electric trains:
For information about railway stations, accessibility and schedules, click on a station name link.
The website of Russian Railways JSC provides information about long-distance trains and available seats. Tickets may be purchased on the same website or on the sites of the relevant Moscow train stations.
All updated commuter train timetables and changes to them are available on the following websites: JSC Central Suburban Passenger Company – www.central-ppk.ru; JSC Moscow-Tver Suburban Passenger Company – www.mtppk.ru; Yandex – www.rasp.yandex.ru; and TU-TU – www.tutu.ru. The Single Information and Service Centre of Russian Railways JSC also provides all the necessary information: 8-800-775-00-00.
The suburban train service plays a key role in the transport system of Moscow and the whole region. Suburban trains are used by 1.7 m passengers daily, with over 2,700 runs per day and more than 500 trains in service.
The passenger traffic increases year by year. In 2010, it was 480 m, while in 2015 trains serviced 650 m people. Moscow is the largest agglomeration in the country, so its rail transport hubs are the absolute national leaders in suburban transit (accounting for 66% of total Russian traffic).
Taxi
Moscow has a well-developed taxi system, with thousands of companies offering their services. In 2011, the Department of Transport of the Moscow Government started issuing taxi licences, formalising the taxi market. Since 1 July 2013, only yellow vehicles are licensed and, by 1 July 2018, all Moscow taxis will be yellow. The Moscow Government subsidises taxi companies, builds taxi stops and allows them to drive in bus lanes. Multiple ways of calling a taxi are available: telephone call, SMS and mobile apps. Moscow taxis drive about 600 thousand people a day and their service quality is held to the highest international standards.
Moscow Central Circle
In cooperation with Russian Railways JSC, the Moscow Government has implemented a project for MCC reconstruction and development.
The total length of the Circle is 54 km. The project was carried out from 2011 to 2016 and, on 10 September 2016, the MCC started carrying passengers.
The project involved creating the power infrastructure for the Circle, building two new and rebuilding three existing railway substations, constructing up to 31 km of the third main rail track, building or reconstructing a number track infrastructure facilities and creating 31 stations.
The MCC train pair traffic is 134 train pairs per day, with a 6-minute interval at peak hours, and a 12-minute interval at off-peak hours. In 2017, the train traffic interval at peak hours was 5 minutes. An average daily MCC passenger traffic on workdays is about 310 thousand passengers.
When the MCC development programme for up to 2020 is implemented, the annual traffic will exceed 120m.
The MCC became Moscow's new transport and transfer network, taking part of the passenger load off the radial Metro lines and central train stations, rebalancing the overall traffic in the city system and offering passengers new opportunities and better routes.
The Siemens Desiro-based Swallow was selected as the train model for the MCC.
Today, Muscovites and visitors to the capital can use 31 MCC stations, 13 of which are connected to Metro stations and six to suburban trains. All of the stations have transfers to surface transport.
The system of major transfer hubs and their integration with the Metro and suburban trains are to be completed in 2017-2018. After construction of three more Metro stations and four more train stations, MCC passengers will be able to use a total of 18 Metro transfers and ten suburban train connections. The second phase of the MCC project also involves construction and landscaping of areas adjacent to the railway tracks. As for further plans, the city will develop the abandoned industrial zones surrounding the transfer hubs, building homes and commercial properties, which will create about 40 thousand new jobs.
The MCC is serviced by 300 ground passenger transport lines.
Moscow Metro
The Moscow Metro (full name: State Unitary Enterprise of the City of Moscow "Moscow Metro named after V.I. Lenin, Awarded Lenin Order and Red Banner Order"), opened on 15 May 1935, is the backbone of the capital's transit system, providing reliable connections between the city centre and industrial and sleeper districts. Currently, the Moscow Metro accounts for 56% of all the public transport traffic in the city.
The Metro's layout (a central ring traversed by radial lines) initially mirrored the historical plan of Moscow. The Metro lines take passengers quickly and reliably from the centre to the suburbs. The average Metro trip is around 15 km. About seven m people use the Metro every day on weekends and, on weekdays, the number exceeds 8.5 m.
Daily, more than 11 thousand trains pass 14 metro lines with a total length of 438.5 km and 255 stations. There are over 5.5 thousand carriages, forming more than 550 trains. On 11 September 2016, travel on the 54-km long MCC was launched and all its 31 stations are now open. For more information about the Moscow Metro, see its official web site.
Surface public transport
Moscow has a vast network of ground public transport, including buses, trolleybuses and trams, carrying over 6 m passengers daily. In addition to the regular service, night and semi-express routes are available.
Parking in Moscow
For those who get around Moscow by car, the Moscow Parking website and the Single Transport Portal provide maps of all the parking lots available in the city, parking rates, payment modes, privileges and fines. Those whose cars are towed for parking in the wrong place can also find information there on the location of the pound and its opening hours.
Park-and-Ride
In order to save passengers the time usually spent on finding parking places and paying for them, the city has built park-and-ride facilities at some Metro stops. On 15 December 2016, Moscow had 29 of these facilities with a total capacity for 6,492 cars.
The parking lots are located at the following stations: Annino, Strogino, Volokolamskaya, Bulvar Dmitriya Donskogo, Shipilovskaya, Zyablikovo, Krasnogvardeyskaya, Vykhino, Izmailovskaya, Bulvar Admirala Ushakova, Novokosino, Timiryazevskaya, Yasenevo, Domodedovskaya, Medvedkovo, Bibirevo, Rumyantsevo and Salaryevo. For information on the terms of use and other details about the park-and-ride facilities, see here.
By 2020, 50 interceptive parking lots for over 12 thousand vehicles will be commissioned. The full list of park-and-ride facilities can be found here.
The parking lots near the stations Annino, Strogino, Zyablikovo, Shipilovskaya, Krasnogvardeyskaya, Vykhino, Volokolamskaya and Izmailovskaya have bicycle stations with free bike parking. 
Bicycle infrastructure
Bicycles are becoming increasingly popular in Moscow, which has been expanding its bike lane network, installing bike sharing stations and bicycle parking lots.
The city's bike lanes and tracks extend for over 200km. This map allows cyclists to plan their routes in advance for more convenience.
In order to use the bicycle sharing service, please register on the Velobike website, through a mobile application, or at the digital terminal of any bicycle station. The rental rates can be found here.
The city's ground transit is bicycle-friendly: bicycles can be brought on municipal buses, trolleybuses, trams and on the MCC free of charge. On suburban trains, bicycle transportation is only allowed in off-peak hours: 11am through 4 pm, and after 9 pm.
Please note that adult bicycles may only be taken on the Metro with their front wheel removed; alternatively, they may be left in the bicycle parking lots available at most Metro stations.
Pedestrian Areas
The historical center of Moscow offers more than a dozen pedestrian areas including: Arbat Street, Bolshaya Dmitrovka Street, Nikolskaya Street, Rizhdestvenka Street, Pokrovka Street, Maroseyka Street, Pyatnitskaya Street, Kuznetsky Most Street, Krymskaya Naberezhnaya Street, Lavrushensky Side Street, Stoleshnikov Side Street, Klimentovsky Side Street, Kamergersky Side Street, Ordynsky Tupik Street, Tretyakovsky Passway and Tverskoy Passway, the Zamoskvorechye District and a pedestrian route from Gagarin Square to Europe Square.